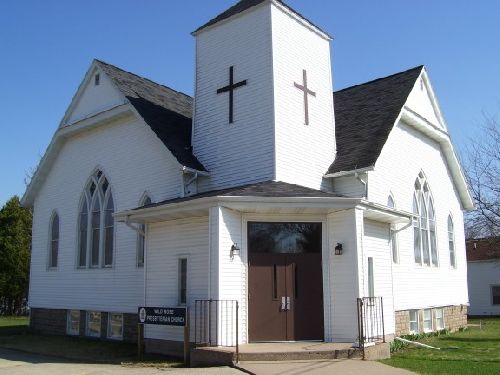 Wild Rose Presbyterian Church, 501 Jackson, Wild Rose, WI which recently celebrated its 100 year anniversary, holds a traditional Welsh hymn singing and tea each year.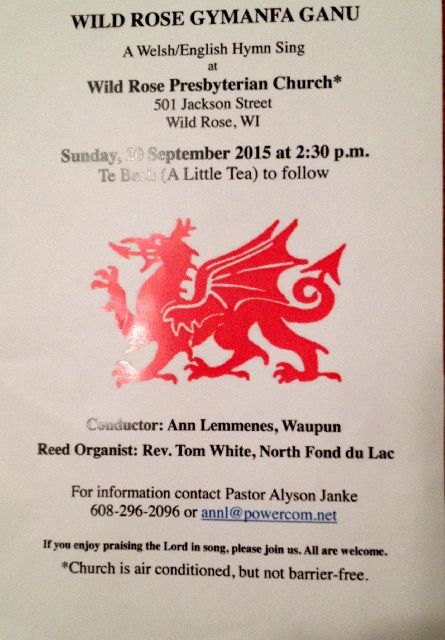 Church
Denomination
Information
Address
Telephone Number
Saxeville Baptist Church
Baptist
CTY A, Saxeville
920-622-3206
Wild Rose United Methodist Church
United
Methodist
8:30 Sunday Worship
225 Summit, Wild Rose
920-622-3800
 St. John's Lutheran Church
 CTY A Saxeville
920-622-3371
St. Paul's Lutheran Church
Lutheran - Missouri Synod
420 Park Avenue,
Wild Rose
920-622-3280
Wild Rose Presbyterian Church
Presbyterian Church (USA)
Worship/Sunday
School 10 AM
501 Jackson
920-622-3515
Wild Rose Baptist Church
HWY 22
Grace Church
Non-denominational
Sunday School 9 AM,
Worship Service 10 AM
610 Carey Avenue
Gymanfa Ganu
The Wild Rose Presbyterian Church, 501 Jackson Street, Wild Rose will hold a Welsh/ English Hymn Sing on Sunday, September 20, 2015 at 2:30 p.m. with the traditional Te Bach (a little tea) to follow. All are welcome! Church is air-conditioned, but not barrier-free. If you enjoy praising the Lord in song, you are welcome to join in. The Conductor for this celebration is Ann Lemmenes of Waupun with Reed Organist is Rev. Tom White of North Fon du Lac. For more information contact Pastor Alyson Janke, (608) 296-2096.