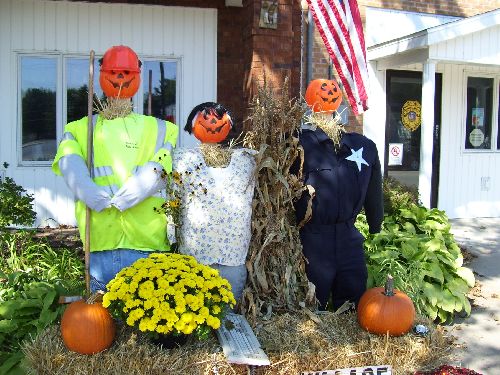 The Wild Rose "village people" representing the streets clerk
and police departments outside the Village Hall during the Classic Car Cruise on September 14, 2012.
Village of Wild Rose
Waushara County
PO Box 292,
500 Main Street
Wild Rose, WI 54984-0292
Clerk
MICHELLE KLAPOETKE
Phone: (920) 622-4183
Fax: (920) 622-4666
Maintenance and Water Treatment Plant Supervisor
Waste Water Treatment Plant
Law Enforcement
Non-Emergency Only: (920) 622-4148
Fire Department
Non-Emergency Only: (920) 622-3699
Municipal Judge
BARRY OSICKA
Court is held the first Thursday of each month, 9:30 AM to 11 AM at the Village Hall. For more information please contact the Village Clerk, Michelle Klapoetke, 920-622-4183.
Wild Rose's Patterson Memorial Library and Community Center
500 Wisconsin Avenue
Wild Rose, WI 54984
Phone: (920) 622-3835