Police Department
LAW ENFORCEMENT
Non-Emergency Only: (920) 622-4148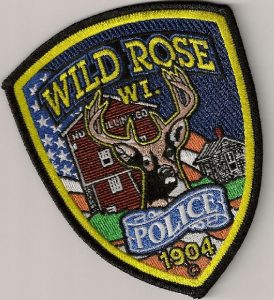 The Wild Rose Police Department uniform patch, pictured here, was chosen as a finalist in the Law Officer Patch Contest.
Goose Hunting Allowed in the Village by Permit
If you are a resident of the village and are interested in a limited goose hunt, please contact our Chief of Police for details.
Bow Hunting Regulations for the Village of Wild Rose
Hunting has been allowed by village residents landowners by lottery and in accordance with DNR regulations.
Hunting within the village is determined by lottery.  The lottery generally is held during the end of August into the beginning of September.  If you are interested in participating, please contact the village Police Department.